Backsplash Tile
Floor Decorators Carpet One Floor & Home in Bremerton is your local source for all things tile. When it comes to tile, there are many possible projects you can do to upgrade your space. From tile flooring to accent walls to custom showers and tile backsplashes, tile is one of the most versatile products available today. One of the simplest projects you can choose to transform your kitchen or bathroom is a new tile backsplash. By adding interest to the walls and keeping them protected, an investment in tile is one that will not only better your design but also make maintaining your home more manageable as well.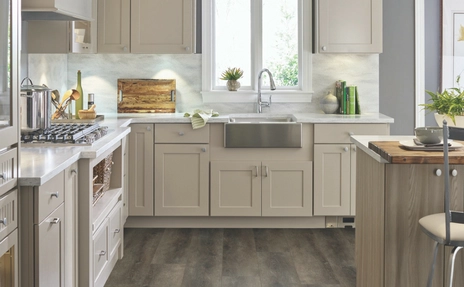 Create a Custom Backsplash
Whether you want the perfect burst of personality with a tile backsplash or you just want to complement other aspects of your kitchen or bathroom, a tile backsplash is easily customizable. You can choose one tile with no texture or a tile with a pattern if you like to keep it simple. Or, if you prefer a little more excitement, you can choose a basic tile and add an accent piece like a border or mosaic. Another option for adding boldness to your backsplash is to choose a pop of color while keeping other décor more neutral.
Durable Protection
Adding a tile backsplash is the easiest way to protect your walls from the damaging effects of high moisture, spills, and accidents. Tile is water-resistant and does not absorb liquid, so even when liquid is spilled on it, cleaning will be a breeze. Also, tile is not likely to crack or chip, so you can expect for it to last a long time.
Easy Maintenance
One thing that most people dread is cleaning. With tile, you can worry less about how often you need to clean and spend more time thinking about what meal you want to cook next. Whenever splatters occur, simply wipe them up with a cloth or sponge. Also, keep tile looking its best by cleaning grout lines occasionally.